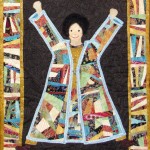 This is what Riki wrote at the end of the project:
"Last year I came up with the idea of having a quilt made for my
daughter Nediva's bat mitzvah. I took the design to Cindy because I
knew that she would make a truly wonderful quilt — one that Nediva
would cherish all her life.
When Cindy saw the design, she asked me a question. "Can you use a sewing machine?"
"Yes," I answered.
"You're making that quilt," said Cindy.
I gulped."I don't know anything about quilting," I said.
"Then I will teach you," said Cindy.
"You will make a quilt for Nediva. It will be meaningful to both of you."

Cindy helped me choose the material and gave me step-by-step
instrucions on what to buy. She suggested that we use crazy quilting
to create Yosef's coat. Then we sat together every week for two hours
and worked for about a year. Cindy is an extremely patient teacher.
She shares her hard earned knowledge generously. And she's great fun
to be with. Not only did I have a teacher, I soon had a friend.

I am looking forward to making many more quilts with Cindy.
Riki Metz"

I have been teaching classes in creating art quilts and recently my student, Riki Metz, completed a year-long project as a gift for her daughter. The quilt came out amazing! Way to go, Riki!