My name is Cindy Richard. I am a textile artist and landscape quilter. I create beautiful, colorful landscapes and portraits from fabric and thread.
I moved to Israel from the United States with my family 20 years ago. While working as a technical writer in hi-tech, I sought a creative outlet and started quilting 18 years ago. I prefer creating fabric landscapes using raw-edge applique to traditional quilting.
I particularly like to create handmade quilt art that reflects the scenery of the Holy Land. I strive to enhance people's lives by capturing the beauty of the Israeli landscape. Using muted colors, varying tones and textures, I use thread to paint a scene with depth on a pallet of fabric.
I share my passion of the quilting tradition through teaching and exhibits, so others can appreciate this timeless art form. I love sharing the knowledge I have gleaned through the years with new friends. I find quilting draws people together from all over the world forming a close bond between people who share this passion. The spark that comes from imparting this knowledge is as inspiring as the craft. Visit Classes to see what interests you.
My quilt entitled The Fields of Kibbutz Shluchot was recently selected to be shown at the International Quilt Festival in Beaujolais, France on April 18-21, 2013.
[I am standing in front of it in the photo below.]
My work has been exhibited in Israel, Europe and has been published in a number of American quilt magazines.
One of my more "creative" works was commissioned as a gift for famed singer, Neil Diamond, and his new wife Kathryn, to celebrate their recent wedding. I designed and produced an art quilt combining elements from both their lives, including the skyline of NY, a village in Ireland and a double-wedding ring pattern.
I now have a small quilt business in Beit Shemesh where I live. I sell my work from my studio and on line via Etsy.
I invite you to visit my Art Gallery to view my collection of art that is both beautiful and functional. Each piece is unique and can be customized to your specific color choices and size.
Feel free to contact me. I look forward to hearing from you and exchanging ideas.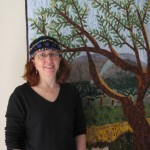 Thanks, Cindy