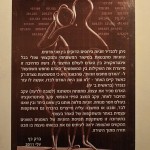 The opening of a unique art exhibit featuring the theme "Couples" took place a week ago, Thursday night. The exhibit is housed in the art gallery on Moshav Givat Yishayahu, home to quite a few artists in the HaElla area.
The theme was presented in paint, photo, steel, chicken wire and wood. Attendees wandered around the art exhibit with a glass of wine and high spirit. One of the renowned artists featured was Moshe Katz, blacksmith. Katz has been exhibited widely internationally.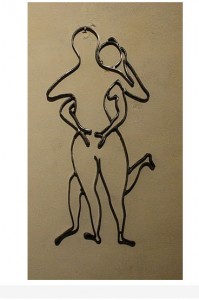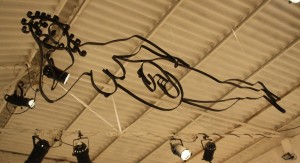 Katz's sculptures are available for purchase on Etsy: http://www.etsy.com/shop/KatzStudio
The art portion of the event was followed by a lively concert nearby. The HaElla Artists are a cooperative that run events such as this one several times a year. They also host visitors in their homes at open house weekends before Sukkot and Pesach.
Here are some photos from the evening taken by Vered Terry https://picasaweb.google.com/veredterry/6?authkey=Gv1sRgCInXyqTxx-C8rwE.
For more information about HaElla events and viewing this exhibit, contact Barak Katz, Administrator of HaElla Artists: [email protected]