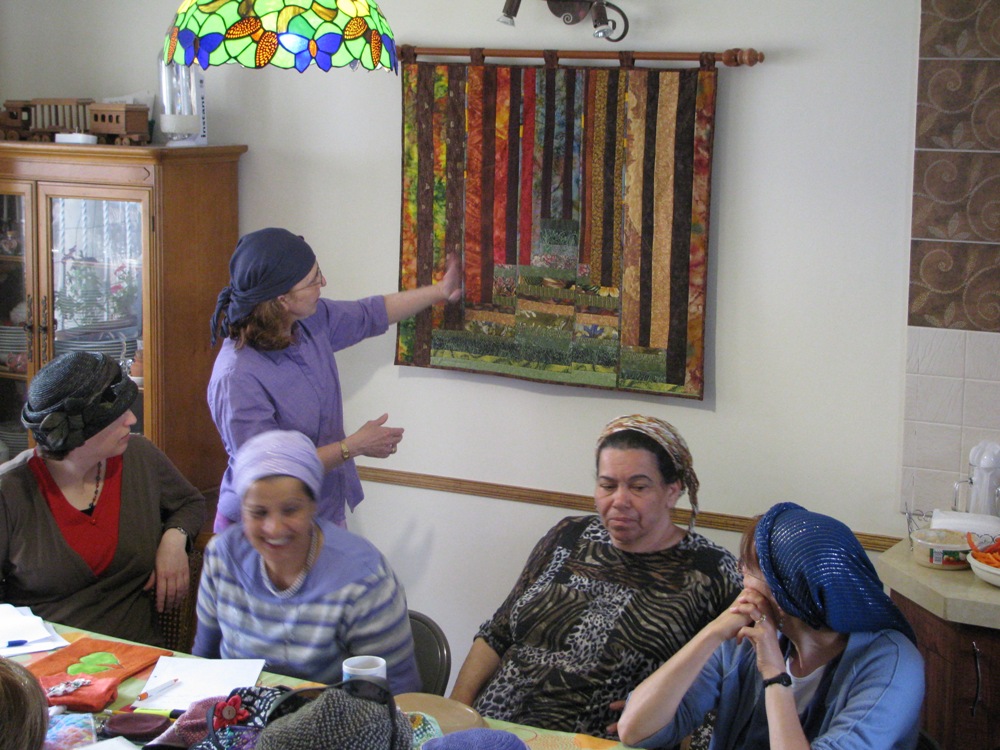 Today I hosted our local professional networking group. It was my turn to put myself on stage and explain: What I do, Why I love it, and What is special about my product. 
I must admit I was quite nervous before everyone showed up. The table was set for 16; samples of my work were strewn across the table and the refreshments were set out. I thought I would practice my pitch, but I couldn't sit still long enough to look at it again. It was all prepared on color coded index cards. Well, color speaks to me and I use it to convey my message in my work, so there was no surprise there. I kept remembering additional things that needed to be set and then all of a sudden everyone arrived.
We started the morning with a short breathing / relaxation exercise led by one of our members. By the time she had led us through the exercise, I could breath and I could think. (Thanks Rachel!)
So, now I was up. I looked at the group and I looked at my cards and I began to speak. All of a sudden I was in "class" mode. This wasn't really so different than teaching a class about something I love to do. I introduced myself and explained the techniques of quilting, talking about the three parts that make up a quilt: top, batting and back. I used my work on the walls and on the table to explain my message. I base my art on beautiful scenes I photograph around Israel. I showed the group some of the photos and the resulting quilts. They were really impressed.
I talked about my background. I started quilting 16 years ago as a hobby. After leaving hi-tech 1-1/2 years ago I decided to follow my passion and make quilting a career.
I showed my first quilt that took 10 years to complete. I quilted it by hand. That was the first and last quilt that I will do by hand…
I am a member of the Israel Quilter's Association and I currently have a quilt exhibited in Israel for the month of May, which is a really important accomplishment for me.
I have added a line of useful art to what I create. I explained that simple bags and head scarves appeal to people who want something pretty and are not able to purchase expensive art at this time.
I have also begun to build Etsy shops for other local artists. Since my background is a mixture of art and hi-tech skills, I hope to be able to help other artists become more successful online.
I expressed my dream to become a recognized, successful quilt artist. Maybe one day I can employ people to sew for CindyRQuilts and they too will earn a living working with beautiful fabrics on creative designs. One should always have dreams…
After I closed there was a discussion around the table and everyone expressed her impressions and suggestions. This was an invaluable part of the process. I learned a lot and understood that overall everyone really liked my work. It was a huge boost! This was affirmation from a group who can also be critical if indicated. I thank you, one and all!