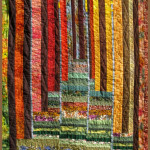 I was recently approached to take one of my art quilt wall hanging designs, In the Forest, and enlarge it to 52″ x 43″. The buyer debated the size for a long time and ultimately, many emails later, decided she wanted the design to be double the size of the original. That's not so hard, right? Wrong. The design has a 3-dimensional quality, which I needed to maintain while doubling the size. The challenge was that now she wanted the quilt to be longer than it is wide, exactly the opposite of the original orientation.
I decided the best way would be to make a map of the enlarged quilt. Here is a photo of the map I worked up.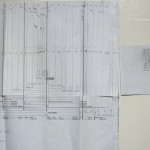 Next, I started to put together the strips. When sewing long strips the challenge is to keep everything straight. The longer the strip the more likely the fabric will stretch or that it will be off just a little by the time you reach the bottom. Well, if you do a few strips, that isn't so bad, but the entire quilt is composed of strips of different widths. I worked painstakingly to keep everything straight. I put sections together, measuring each section to make sure it was even at the top and bottom before attaching it to the next section. Finally I attached all the sections and this is the top I made.
Next I made my quilt sandwich; that's a top, batting and back. I set it on the dining room table to baste it. I got the usual groans from my family for taking over the table…
Here are some shots of the basted quilt.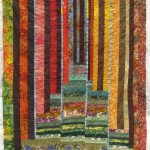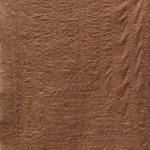 Finally I quilted the piece. I have a wonderful sewing machine with lots of bells and whistles, but it is not a long-arm sewing machine. Fitting a quilt this large within the throat of the machine is hard work — hard to manipulate and no small challenge for my back muscles…
Here is a photo of the quilted and bound wall hanging. I'm really happy with the result. The buyer has just sent me payment and I will mail it to her in the US today! I sent her photos along the way and she is very excited. She promised me she would take a photo of the quilt once it is hung on her wall.
P.S. This is the message I received from my happy customer:
"Your amazing piece of artwork arrived 5 minutes ago!!! It is safe and gorgeous!!!! I will hopefully have it hanging tonight!!! I will email you a picture. It has been an absolute pleasure to work with you!!! I'll be in touch."
So rewarding when people are happy with my work.