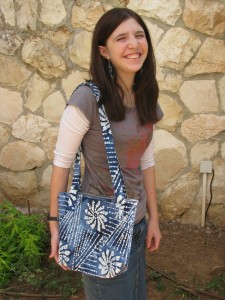 What is the best market research? The commissioned work! Our cousin called and said she wanted a bag to give as a gift. But it needed a zipper and it had to have shoulder straps and maybe some pockets… Pockets are always good. Voila! The new fashion shoulder bag is born!
I just delivered the bag to her and she was really pleased. It is now available on Etsy. Comes in lots of batiks (options shown in the last image). It's lightweight, colorful, fashionable and washable.
Come visit! Shoulder bag.
Enjoy.