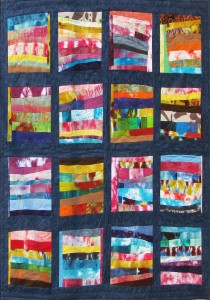 I belong to a quilters group in Modein Israel that has a lovely tradition. A paper bag is passed around and we drop our scraps into the bag. Then the bag goes home with one of the members at the end of each meeting. The challenge is to make something unique from the scraps. I decided to make a scrappy quilt from the leftovers in the bag when it was my turn. I added the blue fabric for the sashing and back, but the rest was made exclusively from scraps. No two blocks are the same.
Dimensions: 52.5″ x 41″ / 132 cm x 104cm
So what do you say?
Would you like to join our challenge? Contact me. It's great fun!