My newest inspiration, with Chanukah on it's way, is a Challah Cover made from a Watercolor Motif. I think it came out really lovely. I used 120 different 2″ squares to assemble this piece topped with gold lame candlesticks. I think it makes an elegant wedding gift or perhaps you are looking to perk up your own Shabbot table. Treat yourself to this unique, handmade intricate piece of art that is both functional and beautiful. In addition it is practical and is easily cared for.  You can also hang it on the wall if you don't want to risk putting it on the table.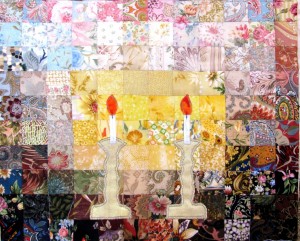 If you want to make one of these yourself contact me. I am now offering a class in Watercolor challah covers! The class will meet for 6 hours (3 sessions of 2 hours) and I will supply the materials. Contact me for additional details. 052-337-4078.
Learn the technique and make a matching table runner on your own.
Available at my Etsy shop.