As promised, I am back to talk more about the commissioned quilt for Neil Diamond and Kathryn. The center of the quilt contains two paths that converge in a diamond shaped photo of the couple together in marriage. Each path contains photos that relate to special events that touched on each of their lives separately and some photos as a couple.
There are photos of Neil early in his life as a fencer and a performer. There are some current photos of Neil in concert. There are some photos of Kathryn in her younger days and some current shots of Kathryn riding a horse and taking photographs.
Finally the bottom center of the quilt contains a well known quilt pattern called "Wedding Rings". Within the rings are the words "Neil and Kathryn 2012" and "Our separate paths now merge to journey onward".
Here are some photos.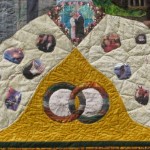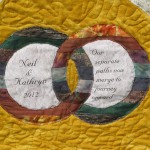 Now that I have taken you through the journey of this wonderful project, here is a photo of the finished quilt. I hope you enjoyed my story. I wish Neil and Kathryn many years of happiness together!