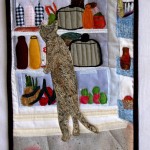 It's done! Bound, sewn and delivered. I hope it's a finalist. It was really fun to do.
I tried to bring out the three-dimensional quality of the scene. I wanted you, the viewer, to understand that you and a cat are looking at a fridge with lots of stuff on the shelves.
The closeup view shows the cat and her long white whiskers peering and sniffing at the contents of the fridge.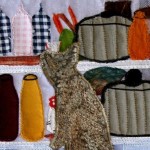 I used cotton fabric, cotton thread, some synthetic fabric, some stabilizer and tulle. (The door is meant to be a little fuzzy because of the plastic shelving, which I made with tulle.)
The batting is Warm and Natural, cotton batting. The final size is 8.5″ x 11″.