My girlfriend, Judy, asked me to make a cup cozy for every member of her family. What is a cup cozy you may ask? This version of a cozy is a cup sleeve that attaches with Velcro® around each cup to identify it, since each cozy is made from a different fabric. Judy has five kids, so this ideal solution is a practical alternative to the constant washing of cups.
Judy tells me: "The cozies are a big hit – I'm VERY happy they are being intensely used. Of course, no one chose the colors we had for them, but there have been no fights and it is working better than I had even hoped."
This is what I came up with…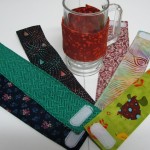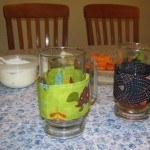 These will soon be available on my Etsy shop. But if you are in a rush, contact me and you can select your colors right away!