There is a path in the town where I live in Beit Shemesh, Israel that runs quite a long way. This time of year it is very pretty with lots of blooming, particularly almond blossoms. I was inspired while strolling there and decided to work something up with that path in mind. This is still a work in progress, but it's a nice beginning, I think.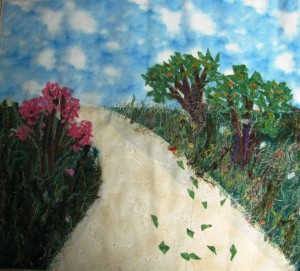 I am thinking about how to best quilt it: maybe cobblestones? maybe ridges? I'm not sure. Also I've asked my friend Phyllis Cullen what she thinks about the shadows on the path. In a class I took with Phyllis last year, I remember she said the bottom of the path should be darker than the top so the path doesn't appear to stand up.
More to come! Meanwhile, what do you think?