Scenes from the Holy Land: Sea of Galilee is my rendition of the shores of lake Kinneret, located in the Galilee in Northern Israel. The Sea of Galilee is our main source of water and due to a severe drought water levels have been a great concern over the past few years.
This is the first of a series of Kinneret quilts I am planning. I think this part of the country is beautiful and I have tried to convey this in my quilt. I hope you too can appreciate the countryside by peering into the waters of my work. I used numerous fabrics to depict the rocks and mountains.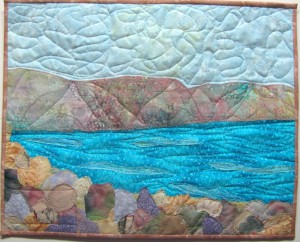 Dimensions: 19″w x 15″h / 48cm x 38.5cm
Available at my Etsy shop. Visit soon!