It's finally raining in the Land. We have had three glorious days of stormy weather from north to south and the Kinneret (Sea of Galilee) is finally getting a sip.
I went out to the garden and found the passion fruit vine had shed it's fruit — almost as if it was raining fruit. I filled two baskets. That should be enough for awhile since I am the only one in our family who likes them. Anyone have some good recipes for them? I usually eat them straight up.
They might make a nice subject for a quilt. I'll have to mull that one over.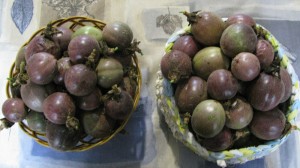 Enjoy the rain!
Cindy