Here are some of the comments I have received over time from happy customers and fans of my artwork!
————————————-
22 June 2016
Thank you for bringing Long Arm quilting to Israel!!!!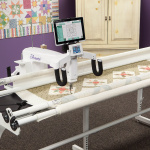 Thank you so much for all of your work to get me up and running! I greatly appreciate your time and effort to ensure everything is working accurately and smoothly. From order through delivery, setup and training, you and David have gone above and beyond. Thank you for bringing Long Arm quilting to Israel!
Ellen Hall, Handi Quilter Avante Longarm Owner
————————————-
30 May 2016
Landscape quilts along a Spiral Staircase
The tapestries are beautiful and we are thoroughly enjoying them. Here is a panorama shot that gets them all in.
Rebecca Gilbert, Etsy client
————————————-
19 July 2015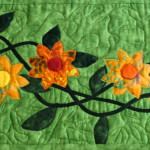 Cindy at CindyRQuilts made a beautiful table setting including a table runner, place mats, napkins and trivets. They are one of a kind, whimsical and stunning! I can place hot items on the table runner as well as the trivets, due to the heat resistant lining, which is wonderful. Cindy and I communicated often regarding style and fabrics. I also sent a picture of my table setting and dining room rug and Cindy found batiks that coordinate with what I currently own. She is a genuine artist!. I am extremely happy with the results! Thank you Cindy.
Elizabeth McMahon, Etsy client
————————————-
18 Dec 2014
Cindy R Quilts R AMAZING!!!!
What artwork!!! Cindy came to speak to my class at Ulpanat Noga about her
quilts(after we had read about the topic) and quite honestly, we didn't
know what a treat we were in for.
Cindy has created the most exquisite quilts that are truly pieces of
artwork. Her work has been in exhibitions in Israel and the world over!
She is beyond talented-her work captures feelings, history…moments!
Thank you Cindy and how fortunate we are in Bet Shemesh to have such talent
in our midst!
Sadeena Pinhasik
————————————-
March 26, 2014

Beautiful! Looks even better in real life – I'm so pleased that I invested in it. Thanks, Cindy
alison881
————————————-
September 3, 2013

This is the first time that I have purchased artwork online and it has been an extremely positive experience. Cindy was very helpful and communicative and I am absolutely thrilled with my wall hanging. It was the colours and clever design that attracted me to this piece, but the photo does not do justice to the quality of Cindy's quilting and the intricate stitching detail. I will look at and treasure this for a long time.
Kerry Reid
————————————-
January 15, 2013

We so enjoyed showing off the landscape quilt hanging in our great room over the holiday. We are so happy with it because it is gorgeous and it matches our home beautifully. Thank you Cindy, well done!
Horticultural
————————————–
March 18, 2013
My new Matzah cover arrived as is even more beautiful in person. I am looking forward to setting my passover tables and enjoying it for the first time.
Hope you and your family have a safe and happy holiday.
With Shalom,Bonnie
————————————–
November 5, 2012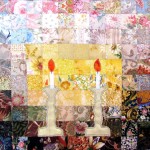 Even more beautiful than the photo. I will enjoy on my Shabbat table for years to come. Thank you!
Bonnie Aibel
————————————–
August 6, 2012
Gorgeous Quilt! I explored etsy for a wall hanging and the minute I saw this piece, I thought…this is it! I began communicating with Cindy in February about her original Forest Scene Wall Hanging. She happily made a larger version to hang above our fireplace. Her work is impeccable, creative, and happy! Cindy is incredibly patient and accommodating. it was an absolute pleasure to work with Cindy. I love looking at the quilt everyday….and will for years to come.
Lynne Poulton
————————————–
Aug 14, 2012
Cindy, Your beautiful quilt arrived today! It was so exciting to open and I LOVE it! I actually decided to hang it in our foyer as the first thing you see coming into our home. It' s perfect!
Thank you for this special gift!
****************
We have hopes to move to the mountains of NC someday. In the meantime, I wanted to bring a bit of the mountains indoors. When I saw Cindy's forest quilt on Etsy I knew it was THE one for my home! Cindy was great to work with. How exciting it was to receive my wall hanging in the mail and now hanging in our foyer I am reminded of the mountains each time I look at it. We will enjoy this art for years to come. Thanks, Cindy!
Tali Denton
Raleigh, NC
———————————
December 13, 2011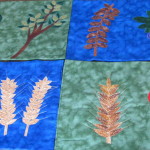 After much consideration, I decided to purchase these beautiful, hand made place mats from Cindy for friends in Haifa. She answered all my questions regarding the construction and shipping, assisted with special requests I had and alleviated any concerns because I was ordering the gift from Canada. Throughout the process, we had ongoing communication. What a fine artist Cindy is! She promised to send me pictures of the finished place mats and when I saw them, I was very impressed. Cindy provided excellent service and I highly recommend her. Thanks so much for a terrific experience!
Judy Rittersporn
———————————–
October 18, 2011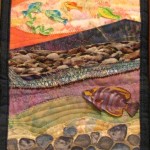 Thanks to cindyrquilts I now have a lovely wallhanging covering the ugly plastic electric box, right inside my foyer. Cindy changed the color scheme upon my request and made it to a specified size. In addition, Cindy corresponded with me, to make sure that she had understood exactly what I wanted. Soon after, I received the lovely work of art now hanging on my wall and I feel great pleasure each time I see it, as I walk through the door; so thank you Cindy!
Veronica
———————————-
January 15, 2012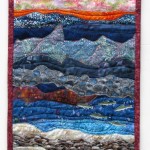 While browsing for textile art for my new office, I came across Cindy's beautiful pieces. We worked together to create a beautiful custom piece depicting a river landscape in Colorado, with rainbow trout and beautiful colors. Cindy was wonderful to work with and was very responsive to my requests and ideas. I sent her a few images and she turned them into art. I am very pleased with the quilt!
Linn Brooks